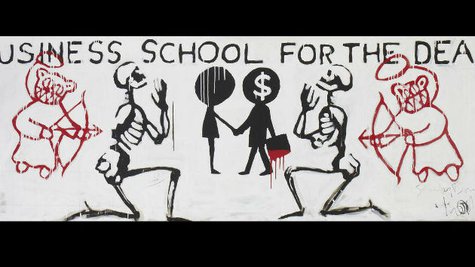 Radiohead / Atoms for Peace frontman Thom Yorke is lending a hand to fight world hunger by auctioning off an anti-poverty painting he created with longtime collaborator Stanley Donwood .
Titled Business School for the Dead , the painting was originally created in 2005 for the Make Poverty History campaign. It features a man with a dollar sign on his head and a bloody briefcase shaking hands with another man, flanked on both sides by praying skeletons and angels -- with Radiohead's bear logo as their faces -- holding a bow and arrow.

Yorke commented that he'd like a certain kind of person to buy his unique painting, tweeting , "Hope someone in the financial industry buys this, what a novelty to have a painting at auction ha!"
Business School for the Dead is expected to rake in between $5,500 and $6,200, with all proceeds going to the Trade Justice Movement, a British coalition of more than 80 organizations campaigning for changes to the rules and practices of world trade to end poverty and hunger.
Copyright 2013 ABC News Radio