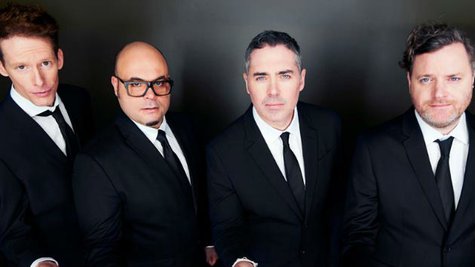 Last year, Barenaked Ladies paid a comical tribute to the supposed Mayan prophecy of the world coming to an end in December 2012 by launching their Last Summer on Earth Tour with Blues Traveler , Cracker and Big Head Todd and the Monsters . On Monday night, the group hits the road again for the second edition of their Last Summer on Earth Tour, which frontman Ed Robertson jokes may be mankind's last chance to party.
"This now may be the last summer on earth," he tells ABC News Radio. "I think it has little to do with the Mayan calendar but who know what's going to happen come November, December." Drummer Tyler Stewart adds, "Who really knows what the Mayan margin of error is. I mean they could have been off by a year, right? So we better have a good time while we can."
The Last Summer on Earth Tour will feature a headlining set by Barenaked Ladies, along with performances from Ben Folds Five and Guster . Robertson notes that while he's looking forward to performing tracks from the group's recently-released album, Grinning Streak , fans shouldn't worry that the guys will avoid playing the hits on the tour.
"I think over the course of the tour you'll certainly hear the whole new record," he explains. "But as much as I want to be playing the whole new record, people come to see the hits. So it's a balance we like to strike [where] the show has got to be fun and entertaining for us, but it's also gotta be fun for the audience."
Copyright 2013 ABC News Radio