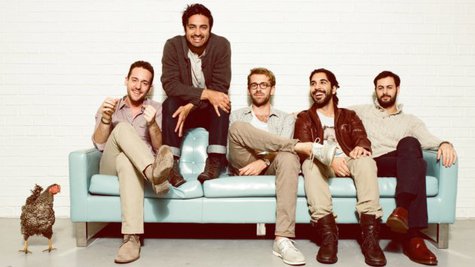 Good news for fans of Young the Giant : frontman Sameer Gadhia has revealed that the band will soon be headed into the studio to begin recording the follow-up to their 2010 self-titled debut album.
"The album writing process is finished now," he tells ABC News Radio. "It was a long process and…at the end of it we were really satisfied with everything that we have. We're finally done with pre-production and we're getting into the studio in like two weeks so really, really excited to get it out there."
The singer adds that the new tracks will feature a fair amount of musical experimentation, with the guys adding some new instruments into the mix. "We've been starting to use a little bit more…keyboard and synth, but we're not a keyboard and synth band and we don't ever want to be," he explains. "For us, the most important thing is that we stick to what we do best and that's being a standard rock group. We're trying to push the boundaries of that but still incorporate some really, really subtle synthesizer stuff."
Gadhia notes that he expects the group's sophomore album to hit stores sometime around the beginning of 2014.
Copyright 2013 ABC News Radio