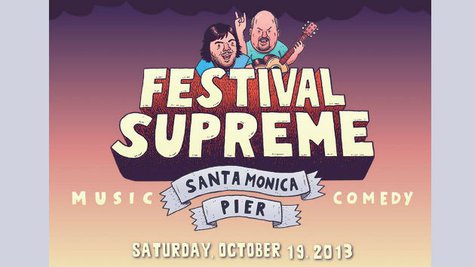 Tenacious D has unveiled the full lineup for their inaugural comedy-rock music festival, Festival Supreme, which takes place October 19 on the Santa Monica Pier in Santa Monica, CA. In addition to a headlining set by the D, the bill features a host of other well-known comedy-rockers including Zach Galifianakis , Adam Sandler , Sarah Silverman , Fred Armisen , and Eric Idle .
"We've been trying to put this thing together for years," says the band in a statement. "The comedy + music event of the century. Festival Supreme! It will shake the heavens and bring this town to its knees...in a good way."
You can score pre-sale tickets to Festival Surpreme at Ticketmaster on Wednesday at 10 a.m. PT with the password "SUPREME." General ticket sales for the event will go on sale on Friday at 10 a.m. PT.
Here is the full list of Festival Supreme performers:
Tenacious D
Tim and Eric
The Mr. Show Experience
The Mighty Boosh
Sarah Silverman
Zach Galifianakis
Adam Sandler
The Gregory Brothers
Tig Notaro
Hannibal Buress
Eric Idle
Fred Armisen
Princess (Maya Rudolph and Gretchen Lieberum)
Will Forte
Demetri Martin
Dynasty Handbag
Reggie Watts
Beardyman
Craig Robinson and the Nasty Delicious
Garfunkel & Oates
Triumph the Insult Comic Dog
Neil Hamburger Band
The Abe Lincoln Story
Nancy and Beth (Megan Mullally and Stephanie Hunt)
Copyright 2013 ABC News Radio