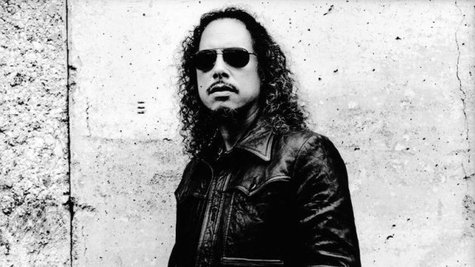 Despite the distractions of their constant touring schedule and their upcoming 3D flick, Through the Never , Metallica is still focused on the task of creating songs for their follow-up to 2008's Death Magnetic . Guitarist Kirk Hammett says that in their spare time, the band has been stockpiling a large number of heavy riffs for their 10th studio effort.
"We do have a lot of musical ideas, we have something called 'the Riff Bank,' and the Riff Bank keeps getting bigger and bigger, still, to this day," he tells MTV News . "I'm writing stuff, [bassist] Rob [ Trujillo ]'s writing stuff, [frontman] James [ Hetfield ] is writing stuff, [drummer] Lars [ Ulrich ] is writing stuff, continually expanding the Riff Bank."
Hammett adds that while the band is coming up with lots of material, fans will need to wait about two years before they can get their hands on it. "I think it's a more sober statement to make to say that the album will probably come out in 2015," notes the guitarist. "We have a lot of ideas but no actual finished songs…but we're looking forward to making it as heavy and as high-energy as possible, because that's what we want."
In other Metallica news , Through the Never will premiere exclusively at every IMAX theater across North America for a full week starting September 27, after which it'll expand into additional theaters starting October 4.
Copyright 2013 ABC News Radio