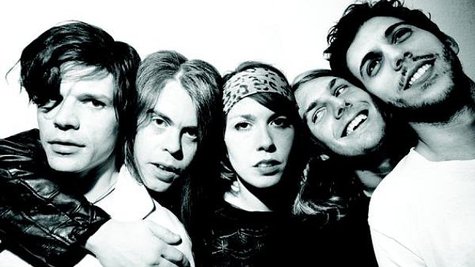 Grouplove proves that their music can soften the heart of an evil dictator in the video for "Ways to Go," the first single from the band's upcoming album, Spreading Rumors .
In the four-minute clip , the band is held hostage by a boy who appears to be a younger version of North Korean leader Kim Jong-un , and is forced to perform songs for his amusement. The opening bars of "Ways to Go" wake the young leader from his slumber, putting him in a good mood so that he frees all of the prisoners who are being held on his compound.
"Ways to Go" has just arrived at radio stations and will be available for purchase at digital retailers on Tuesday. You'll get to hear a live performance of the single when the band drops by NBC's The Tonight Show with Jay Leno on June 18.
Spreading Rumors features 13 new tracks and will hit stores on September 17. In addition, a limited-edition flexi-disc book -- which features the tracks on individual vinyl "pages" -- will soon be available for pre-order on the group's website.
Here's the track list for Spreading Rumors :

"I'm with You"
"Borderlines and Aliens"
"Schoolboy"
"Ways to Go"
"Shark Attack"
"Sit Still"
"Hippy Hill"
"What I Know"
"Didn't Have to Go"
"Bitin' the Bullet"
"News to Me"
"Raspberry"
"Save the Party for Me"
Copyright 2013 ABC News Radio