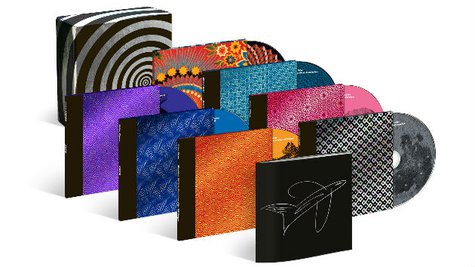 Following the reissues of 1991's Gish , 1993's Siamese Dream , 1994's Pisces Iscariot and 1995's Mellon Collie and the Infinite Sadness , The Smashing Pumpkins will now re-release their 1996 box set, The Aeroplane Flies High, in July.
The set will be available in a variety of formats, including standard and deluxe digital versions and a vinyl package. All versions will include a remastered edition of the original album, while the deluxe versions will feature more than 60 previously unreleased and alternate versions of tracks, as well as live recordings. In addition, the physical version of the deluxe package also will include a live DVD documenting a July 4, 1997, concert in Belfort, France.
"Listening to the music gathered here is a little bit like seeing what goes on behind the walls of Disneyland," says frontman Billy Corgan in a statement. "You look over that gate and notice that things on the other side are not well painted -- or maybe you spot that guy dressed as some character sneaking a smoke on his break. At least for me, the behind the scenes feel heard on The Aeroplane Flies High represents something revealing not found on the main album."
The Aeroplane Flies High reissues will be available July 23. To view the full track list of each box set and DVD, visit SmashingPumpkins.com .
Copyright 2013 ABC News Radio