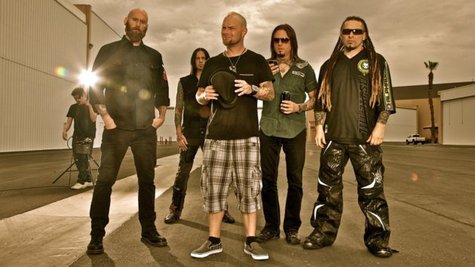 Five Finger Death Punch fans, you'll have to wait an extra week to get your hands on the first installment of the band's fourth studio effort, The Wrong Side of Heaven and the Righteous Side of Hell . The record's release date has been pushed back to July 30.
The Wrong Side of Heaven and the Righteous Side of Hell will be available in a variety of formats, including standard and deluxe digital versions and a limited-edition box set. All versions will include the standard album, while the deluxe edition will include a 15-track live CD, PURGATORY [Tales from the Pit] . The limited-edition box set includes everything from the deluxe edition, along with a 5FDP lunch box and a free download of an exclusive new track from the upcoming release.
You can pre-order the deluxe edition on iTunes starting June 18, but if you buy the physical version, you'll get a limited-edition t-shirt. The box set will also be available for pre-order on the group's website the same day.
5FDP recently gave fans a taste of the new album by posting a lyric video for the release's first single, " Lift Me Up ," which features vocals from Judas Priest frontman Rob Halford .
Copyright 2013 ABC News Radio