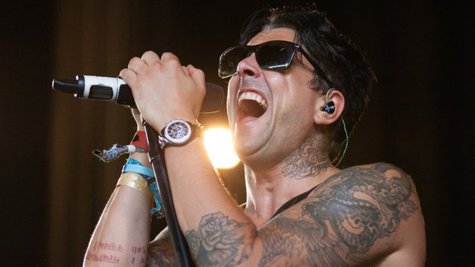 Lostprophets singer Ian Watkins has pleaded not guilty to allegations that he committed a total of 24 sexual offenses against children, according to WalesOnline.co.uk .
Watkins appeared via video link before the Recorder of Cardiff Judge Eleri Rees in Cardiff, Wales on Monday at a hearing over charges for allegedly "conspiring to engage in sexual touching with two young children; possessing, making and distributing indecent images; and possessing 'extreme' animal pornography." The singer is also being accused of conspiring with a woman "to rape a one-year-old girl."
In addition, the singer released a statement to thank all those who have offered their support to him. "I want to thank my family, friends and all the fans for the continued support throughout this whole ordeal," he said in a statement. "Your support gives my strength. I deny all the allegations made against me and I will continue to fight to clear my name."
Watkins is expected to appear before the Cardiff Crown Court again on Thursday. His case is expected to be tried sometime before the end of the year.
Copyright 2013 ABC News Radio