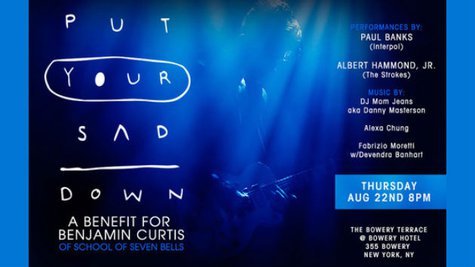 The Strokes guitarist Albert Hammond Jr. and Interpol frontman Paul Banks have signed on to headline a benefit concert for ailing School of Seven Bells multi-instrumentalist Benjamin Curtis , who was diagnosed with T-Cell Lymphoblastic Lymphoma earlier this year.
Dubbed Put Your Sad Down, the event will feature Hammond and Banks performing tracks from their solo projects. It will also feature DJ sets by Strokes drummer Fabrizio Moretti , Devendra Banhart , Alexa Chung and DJ Mom Jeans aka Danny Masterson .
In addition to the performances, fans can bid on a silent auction featuring memorabilia from The Black Keys , The Strokes, Yeah Yeah Yeahs , Vampire Weekend , The Hives , Black Rebel Motorcycle Club , and The Polyphonic Spree .
Put Your Sad Down will take place on August 22 between 8 p.m. and 1 a.m. at The Bowery Terrace in the Bowery Hotel in New York City. Tickets for the event start at $40 and can be purchased at Ticketfly.com . All proceeds from the concert will go towards Curtis' extensive medical bills.
Copyright 2013 ABC News Radio