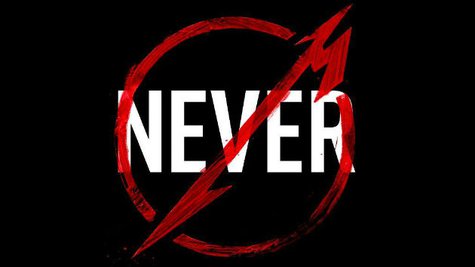 Metallica has revealed the track list for the soundtrack for their upcoming 3D film, Through the Never , and it features a number of live performances sure to please die-hard fans. The upcoming double album features 16 career-spanning tracks, including hits "Enter Sandman," "Master of Puppets" and "One," which were recorded during last year's concerts at Rexall Place in Edmonton and Rogers Arena in Vancouver.
"Let's hear it for the old school soundtrack!" said drummer Lars Ulrich in a statement. "Not only are we beyond psyched about our movie coming your way shortly, but the fact that we get to share the music directly in all these formats is way f**kin' cool."
Metallica Through the Never (Music from the Motion Picture) will arrive at the usual outlets on September 24. A vinyl edition of the full soundtrack, as well as some limited edition singles, will be available in the fall.
Through the Never will premiere exclusively at every IMAX theater across North America for a full week starting September 27. After the flick has its run in the IMAX theaters, it will expand into additional theaters starting October 4.
Here's the track list:
Disc 1
"The Ecstasy of Gold"
"Creeping Death"
"For Whom the Bell Tolls"
"Fuel"
"Ride the Lightning"
"One"
"The Memory Remains"
"Wherever I May Roam"
"Cyanide"
"…And Justice for All"

Disc 2
"Master of Puppets"
"Battery"
"Nothing Else Matters"
"Enter Sandman"
"Hit the Lights"
"Orion"
Copyright 2013 ABC News Radio