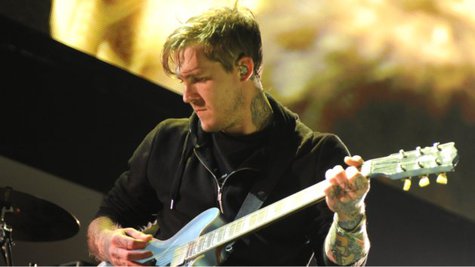 The Gaslight Anthem may have gotten their start in part by playing Bruce Springsteen covers, but now the band has revealed that they no longer want to play those songs. Frontman Brian Fallon posted a lengthy note on the group's Tumblr blog asking that fans no longer yell out requests for cover songs.
"I'm asking openly and humbly that if anyone would like to come to a Gaslight Anthem show, please come because you want to see what we're doing on that night," he writes. "Don't come to see Bruce [Springsteen], he won't be there. Don't come to hear a cover, it probably won't happen. Don't come to yell at me when I'm trying to share something with the audience to reach out to them about something I feel is moving me."
Fallon adds that he's decided not to talk with the press or do any interviews until the band has completed work on their follow-up to 2012's Handwritten .
"I have nothing left to say until we find what that next chapter of our band is," he writes. "To our fans…please bear with us through this awkward period of finding our new legs. I'm being honest with you here because I am grateful for your loyalty to my band."
Copyright 2013 ABC News Radio