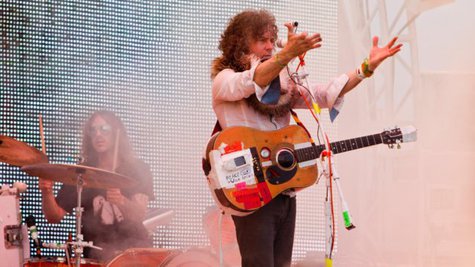 During this week's San Diego Comic-Con, Wayne Coyne put up for sale his first-ever comic book, The Sun Is Sick . The Flaming Lips frontman says that he decided to create the issue after he'd compiled a series of drawings he made while being interviewed by journalists.
"While I'm doing an interview…I would have pencil and paper sometimes and I would start a doodle and it would turn into a character and some action," he tells MTV News . "I would spend a couple of days after that drawing other things connected to it."
The Sun Is Sick is billed as a "psychedelic fantasy" that features some very adult themes, a reality that's highlighted on the comic's cover, which features a topless woman gently cradling a giant eyeball that appears to be leaking green fluid. Coyne notes that the comic came together spontaneously, and that he wasn't necessarily inspired by anything in particular.
"I would just draw whatever," he explains. "It doesn't mean that I think about that all the time…I don't have any defense for it. It's just absurd and sick and funny."
If you missed out on scoring a copy of The Sun Is Sick at Comic-Con, a limited number of issues will be offered for sale Monday on the official Flaming Lips website .
Copyright 2013 ABC News Radio