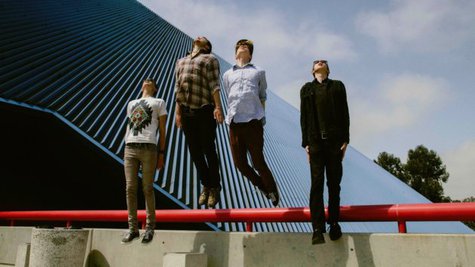 Good news for Alt-J fans: the band has revealed plans to begin working on their second studio album as soon as they finish their current tour. Keyboardist Gus Unger-Hamilton says that the guys have been working on a number of song ideas while they've been out on the road promoting their debut release, An Awesome Wave .
"[We] come up with little things maybe just on our own, or with one or two of us, or sometimes in soundcheck we have little jams if we have time and like make lots of little recordings on our phones," he tells ABC News Radio. "I think once we finish this tour, which will be in a few months, we'll kind of open up the…treasure trove of these recordings we'd made for the last year and a half and see what we've got."
Guitarist Gwil Sainsbury adds that while the group has made tentative plans to begin the songwriting process in October, fans shouldn't count on getting their hands on the finished record anytime soon.
"Our approach with the first album was that we were at university while we wrote most of it, so we did it in a very relaxed way over a long period of time," he explains. "I think the long and the short of it is we don't know how long it will take to make our next album. It will be ready when it's ready."
Copyright 2013 ABC News Radio