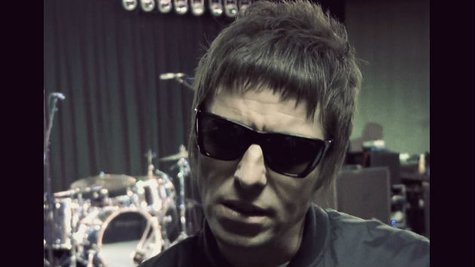 Liam Gallagher has reportedly been slapped with a multi-million-dollar paternity suit by a music journalist who claims that he's the father of her baby girl. According to the New York Post , Liza Ghorbani recently filed a paternity suit in Manhattan Family Court seeking $3 million as well as child support. But the singer's reps told a U.K. newspaper that they plan to sue the Post over the article.
Gallagher's rep neither confirmed nor denied the substance of the Post report, telling The Guardian , "We are not going to comment on gossip"; but reps did tell the Guardian that they were planning legal action against the Post .
The Post cites unnamed sources who say that Ghorbani met the Beady Eye frontman in 2010 while interviewing him for a New York Times column called 'A Night Out with...,' where reporters spend an evening with a celebrity. Ghorbani claims that she was intimate with Gallagher since then and gave birth to his daughter seven months ago. In addition, sources tell the Post that a DNA test has confirmed Gallagher is the dad.
Gallagher is currently married to Canadian pop singer/actress Nicole Appleton . He has two sons, one with Appleton and one with his ex-wife, actress/singer Patsy Kensit . Gallagher also has a daughter from an extramarital affair that occurred while he was married to Kensit.
Copyright 2013 ABC News Radio