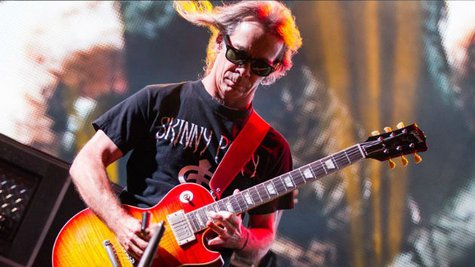 In addition to playing guitar for the Dave Matthews Band , Tim Reynolds also performs duo concerts with frontman Dave Matthews at which the pair cover a variety of DMB tunes. While the duo has released several live recordings of their shows, they have yet to create any original music, a situation Reynolds says he hopes to rectify in the near future.
"I would love to record in a studio [with Matthews] just to do new stuff," he tells ABC News Radio. "Like, even do stuff that hasn't been done at all, because we tend to basically play DMB songs. There's so many things we could do with that, you know."
The guitarist is staying busy outside of his commitments to DMB, revealing that he has been working on another full-length album with his other band, TR3 . "It's really close [to being finished]," he explains. "The last time I did a lot of work on it was in the spring, and now having sat and listened to it, I realize there's not a whole lot more to do. It's just a matter of finding time to do all the things to get it put out. So I'd imagine it probably won't come out until the beginning of next year."
Reynolds won't have the chance to finish up TR3's new album until DMB wraps up their North American summer tour on September 8 at the Shoreline Amphitheatre in Mountain View, CA. Visit DaveMatthewsBand.com to view the full list of tour dates.
Copyright 2013 ABC News Radio