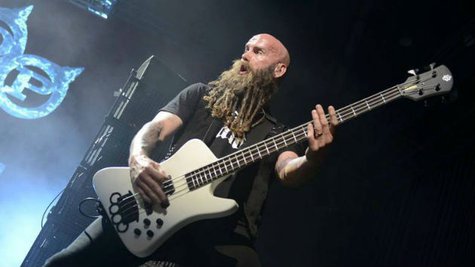 Chris Kael has teamed up with Spector Bass Guitars to release his own signature instrument. The Five Finger Death Punch bassist has helped design the Chris Kael CK-4 signature model bass guitar , which will be available at Spector authorized dealers around the world this fall.
"Having played Spector long before joining Five Finger Death Punch, I am extremely happy to now be in a position to collaborate with them on the design of the new Chris Kael CK-4 signature model," said Kael in a statement. "Combining the playability and feel of Spector with the tone of the EMG P/J pickups and the attitude of the brass knuckle bridge, this is the bass I've always wanted."
The Chris Kael CK-4 signature model bass guitar will run you $1,999.99, and will be available in matte black or matte white with black hardware. You'll get a good look at the new bass guitar if you attend one the band's remaining dates on this year's Rockstar Mayhem Festival. Other acts set to take the stage as part of the event include Rob Zombie , Mastodon and Machine Head . Visit RockstarMayhemFest.com to view the full itinerary.
Copyright 2013 ABC News Radio