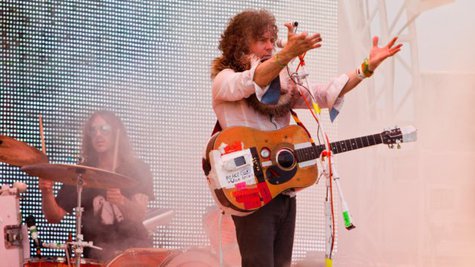 Wayne Coyne can now add comic book artist to his resume. The Flaming Lips frontman has just announced the release of his first-ever comic book, The Sun Is Sick , later this week.
The Sun Is Sick isn't for everyone, though. The comic is billed as a "psychedelic fantasy" that features some very adult themes. " The Sun Is Sick may be a comic book but make no mistake; this is not suitable for children and depending on what sort of person you are, it may not be suitable for some of you non-children either," says a statement from the band's reps. "If you have doubts at this moment then The Sun Is Sick is not for you."
To give you an idea of what you're in for, the singer has unveiled the cover of The Sun Is Sick, which features a topless woman gently cradling a giant eyeball that appears to be leaking green fluid.
A limited number of copies of The Sun Is Sick will be available Thursday-Sunday at the San Diego Comic-Con. If you miss out on scoring a copy there, another limited number will be up for sale on the official Flaming Lips website starting Monday, July 22.
Copyright 2013 ABC News Radio