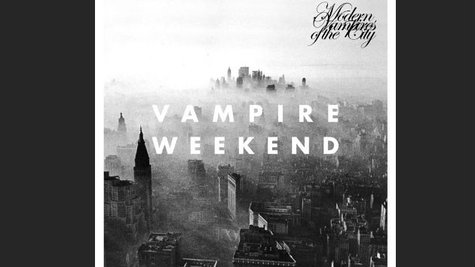 Vampire Weekend 's latest album, Modern Vampires of the City , is filled with a number of interesting characters who are featured on songs "Hannah Hunt," "Hudson" and "Diane Young." Frontman Ezra Koenig says that group always makes a habit of coming up with a cast of unique subjects for each of their releases.
"I think there's characters on every album," he tells ABC News Radio. "It's just natural that there's gonna be people on a record and…this album is a very New York-centric record, so of course there's gotta be some people,…just like [in] a real city, that populate the album itself."
Koenig adds that the real-world quality of the characters featured in Modern Vampires of the City helps hold the album together thematically. "We've always thought about each album as being kind of its own world, and of course all three are interconnected," he explains. "Every song might have a different mood or tone or instrumentation but there's still something about the whole record that feels like a world. Different moving parts but something that comes together."
Vampire Weekend is currently on tour overseas, but the band will return to North America for an appearance at the Osheaga Music and Arts Festival at Parc Jean-Drapeau in Montreal, Quebec, on August 2.
Copyright 2013 ABC News Radio