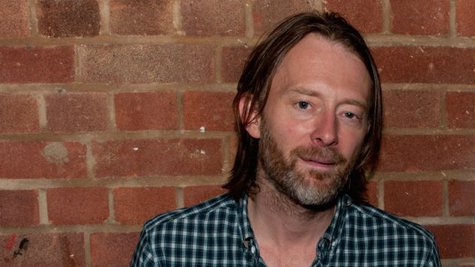 Those of you waiting for Radiohead to put out new music may have to be very patient with Thom Yorke and his band mates.
Yorke was asked about the future of Radiohead during a conversation with James Bond actor Daniel Craig for Interview magazine. Yorke laughs, "God, I so wish I had a plan."
Yorke continues, "The only plan that we've had recently was to take a year off, which was something that [guitarist] Ed [ O'Brien ] wanted to do. Ed wanted to go live somewhere else and switch off." He also notes that the other members are working on their own projects.
Yorke is keeping busy himself with his just-launched tour with Atoms for Peace . When Craig asks him if he tackles side projects like this one in order to "keep being creative," Yorke replies, "That's absolutely it. I mean, try to imagine this: I've essentially been writing music and playing with the same guys since I was 16."
Craig mentions in the interview that Atoms for Peace at times will play smaller venues than Yorke is accustomed to with Radiohead. Yorke comments, "It's been a weird build-up because in calling it not me -- in calling it another thing -- people don't necessarily make the connection, which is kind of mad. So it's been sort of like starting again with a band and trying to say to people, 'This is this thing.' And then I can't really explain it either because it's not really a band."
Atoms for Peace will launch a brief tour of North America this September.
Copyright 2013 ABC News Radio