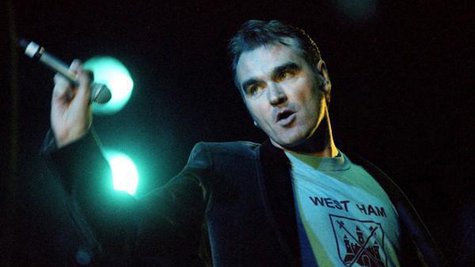 People for the Ethical Treatment of Animals just got a sizable donation from Morrissey , and they have celebrity chef Gordon Ramsay to thank for it.
The singer recently received a settlement of £10,000 -- roughly $14,800 in U.S. currency -- after his Smiths song "Please, Please, Please Let Me Get What I Want" was used without his permission to promote Ramsay's Christmas Cookalong Live program on U.K. TV network Channel 4.
The entire amount of the settlement has now been donated to PETA, which plans to use the money fund a campaign to protest foie gras [fwah grah] and Fortnum & Mason, a U.K. department store that sells the product. Foie gras, a delicacy, is the fattened liver of a duck. Producing it usually requires force-feeding the birds in a process some consider cruel. For this reason, it's banned in some countries, including the U.K.
"Ramsay may very well stick his head in his microwave when he hears that the money I received from Channel 4…is being donated to PETA to fight foie gras," says Morrissey in a statement. "Foie gras is so cruelly produced that he'd be against it if he had an ethical bone in his body."
Copyright 2013 ABC News Radio