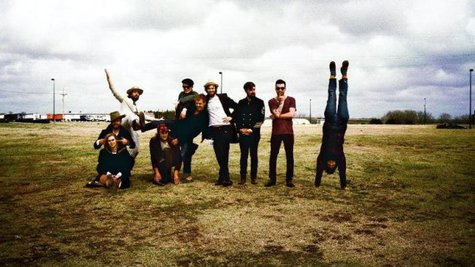 Frontman Alex Ebert hopes that you'll notice a change in his singing voice on Edward Sharpe and the Magnetic Zeros ' upcoming self-titled album. The singer says his vocals have evolved quite a bit since the group released 2012's Here , thanks to the band's constant touring schedule.
"My voice has changed a lot just from singing every day," he tells ABC News Radio. "I didn't grow up a singer so it's taken a while for me to wear in my voice to point where I feel good about it. So yeah, it's been a long road to this album…and I just feel really good about the songs. I think we all do."
Ebert adds that he wanted to make sure the group put out the forthcoming album as quickly as possible so he could settle unfinished business he had with Here . " Here …for me wasn't and isn't a complete statement of who we are or where we're at musically," he explains. "It was important to me to get out the complete statement as soon as possible after that.
Edward Sharpe and the Magnetic Zeros self-titled record will arrive in stores on July 23.
Copyright 2013 ABC News Radio