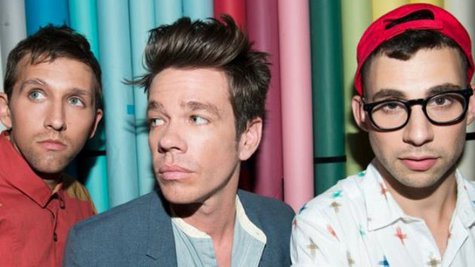 fun. hits the road on their Most Nights tour starting this weekend, but guitarist Jack Antonoff says the Grammy-winning group is definitely thinking about their next album, and could be in the studio as soon as the beginning of next year.
"There's, like, hints of a game plan," Jack tells Billboard . "The way we work is pretty spontaneous and pretty quick...[an album] should be a documentation of a band in a moment, not a giant, three-year process. So the next album will be the same thing."
He adds that he "assumes" that "some time at the beginning of next year we'd like to be in the studio," but cautions that it all depends on "when the feeling hits and when we have a concept that's worthy." Right now, he says, "We're not there yet."
But when they do finally get into the studio, Jack says the success of their album Some Nights -- which won them a slew of Grammys and spun off a string of hit singles -- will be in the backs of their minds.
"We learned a lot of great lessons with Some Nights -- the most important is that we made the album we wanted to make and we weren't really thinking about anything else besides that, and it just happened to have singles and be really successful," he explains. "So the lesson we learned is we should do what we want, and if that has a chance of being successful, it's great."
fun. will be on the road until October, and they've also released a fourth single from Some Nights , "Why Am I the One," which Jack says will be the last. It follows "We Are Young," "Carry On" and the title track.
Copyright 2013 ABC News Radio