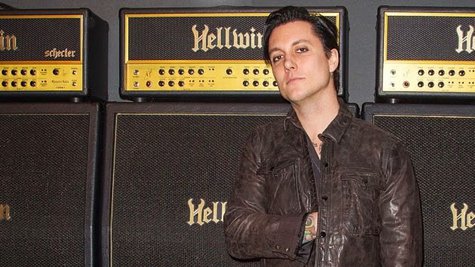 Avenged Sevenfold guitarist Synyster Gates is offering aspiring artists a chance to join him for a master class at The Guitar Center in Los Angeles.
The musical equipment retailer is launching a contest called "Master Class with Synyster Gates" to "inspire a new generation of rock guitarists." The program offers ten musicians instruction from Gates and a chance to win the A7X's guitarist's signature Schecter electric guitar.
"Avenged Sevenfold has always been a band that champions musicality," says Gates in a statement. "I'm passionate about the art of guitar, and this Master Class is the perfect opportunity to help further the skills and careers of like-minded musicians."
To enter the contest, you'll need to record your best original lead guitar performance on top of one of A7X's backing tracks, which are offered on the contest's website. You'll then need to submit the recording sometime between July 15 through September 15. Gates will personally select 10 winners, who will be flown out to Los Angeles to train with him.
Check out the particulars at GuitarCenter.com/A7X .
Copyright 2013 ABC News Radio