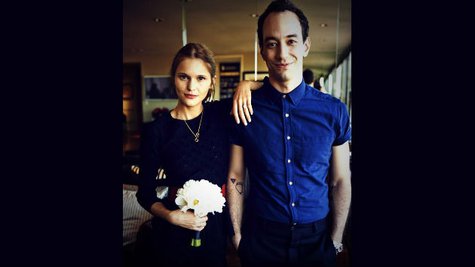 Albert Hammond Jr. has announced he's married his girlfriend Justyna Sroka . The guitarist revealed the good news via Twitter on Monday, posting a picture of him standing with his bride, who's clutching a bouquet of white flowers.
Hammond notes Sroka will take the guitarist's full surname, tweeting, "Mr. & Mrs. Hammond, Jr. Yeah...she kept the JR. YES!! Haha she's JHJ I'm AHJ."
Hammond won't have a long honeymoon: he'll soon be getting back out on the road to promote his recently-released EP, AHJ. That North American trek kicks off on January 9 at Rams Head Live in Baltimore, MD. Visit AlbertHammondJr.com to view the full itinerary.
Copyright 2013 ABC News Radio