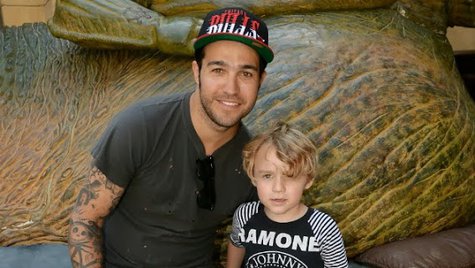 Some rock stars probably shower their kids with super-expensive gifts on Christmas, but Fall Out Boy 's Pete Wentz likes to keep things simple. The bassist won't reveal exactly what he's getting his five-year-old son Bronx for Christmas this year, but he tells ABC News Radio he tends to give his son presents that fuel his overactive imagination.
"For his last birthday I just at the last minute went to the store, and got a rope, and put two little…locks on the end of it, and he just ties things up in the house," he tells ABC News Radio. "It's like his favorite present and it cost about 23 cents to make. I feel like he's definitely at the stage where like his imagination is so awesome that I don't want to put anything that like gets in the way with that."
The next big thing for Fall Out Boy will be their appearance on Dick Clark's New Year's Rockin' Eve with Ryan Seacrest . The band is part of the roster of artists who will perform as part of the West Coast Party segments of the annual ABC New Year's Eve special, hosted by pop star Fergie . Capital Cities will also perform on the program, which kicks off at 11 p.m. ET as Seacrest counts down to midnight live from Times Square, after which the party will keep going until 2:12 a.m. ET.
Copyright 2013 ABC News Radio