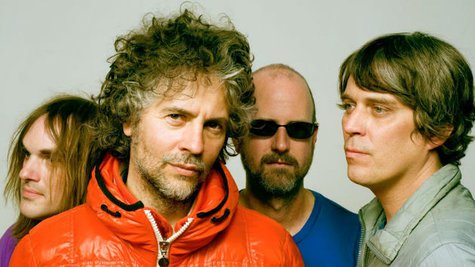 Wayne Coyne has announced he'll be making some appearances at a number of record stores this week. The Flaming Lips frontman will be meeting fans and signing copies of The Flaming Lips 1st EP and The Flaming Lips 2nd Cassette Demo .
The 12-inch vinyl limited edition version of The Flaming Lips 1st EP is housed in an anatomically correct and life-sized solid chocolate skull, which contains a golden coin that fans can use to attend any of the group's upcoming headlining gigs anywhere in the world. The Flaming Lips 2nd Cassette Demo will be available on a seven-inch blue vinyl single.
If you don't pick up copies the discs during Coyne's upcoming record store tour, both items will go on sale at participating record shops starting December 24. Only 2,000 copies of each record will be made available.
Here is the itinerary for Coyne's Record Store Tour:
12/19 -- Nashville, TN, Grimey's @ 4 p.m.
12/20 -- Louisville, KY, Guestroom Records @ 12 p.m.
12/20 -- Chicago, IL, Permanent Records @ 8 p.m.
12/21 -- St. Louis, MO, Vintage Vinyl @ 5 p.m.
12/22 -- Lawrence, KS, Love Garden Sounds @ 5 p.m.
Copyright 2013 ABC News Radio