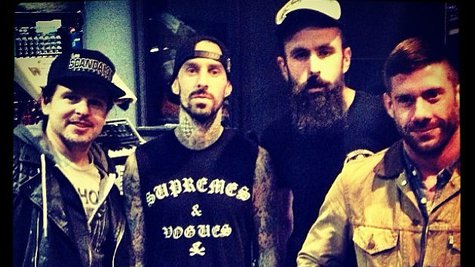 Travis Barker is cooking up something special with Limp Bizkit guitarist Wes Borland and former Nine Inch Nails multi-instrumentalist Danny Lohner .
The Blink-182 drummer posted a photo on his Instagram account that features him standing next to Borland, Lohner and hip-hop artist Scroobius Pip , along with the caption, "In the lab creating with these talented gentlemen @scroobiuspipyo @florinshordo and @dannylohner #goodtimes #goodpeople #goodmusic."
Barker and friends are staying mum on the project. A release date for the material has yet to be announced.
Copyright 2013 ABC News Radio