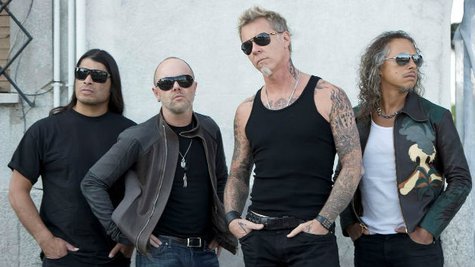 Metallica has become the first artist to perform on every continent on Earth. The guys played a show in Antarctica on Sunday for a crowd of 120 scientists and contest winners as part of a sweepstakes sponsored by Coca-Cola Zero, reports Billboard .
Dubbed the "Freeze 'Em All" show, the group performed a number of classic tracks, including "Master of Puppets," "Nothing Else Matters" and "Enter Sandman," inside a dome located near the heliport of Carlini Scientific Base. In accordance with international Antarctic protocol, the band's amplifiers were enclosed in isolation cabinets and everyone in the crowd was issued headphones, which was the only way the audeince members could listen to the show.
"This was the most unique show Metallica has ever done," wrote the band on its Facebook page . "The band, contest winners, research station scientists (from Russia, South Korea, China, Poland, Chile, Brazil and Germany), and the ship crew, all crammed in this little dome out on the helipad of Carlini Station in ANTARCTICA! The energy in the little dome was amazing! Words can not describe how happy everyone was."
Here is the set list:
"Creeping Death"
"For Whom the Bell Tolls"
"Sad but True"
"Welcome Home (Sanitarium)"
"Master of Puppets"
"One"
"Blackened"
"Nothing Else Matters"
"Enter Sandman"
"Seek & Destroy"
Copyright 2013 ABC News Radio