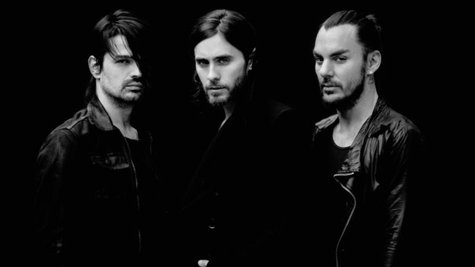 Jared Leto has some advice for aspiring musicians who've been offered their first record deal: watch his Artifact documentary before signing on the dotted line. The 30 Seconds to Mars frontman says his film, which tells the story of the band's legal battle with record label EMI after being slapped with a $30 million lawsuit when it tried to leave the label in 2007, will give up-and-coming artists an inside look at the positive and negative aspects of joining a major record label.
"Watch the film first," he tells Forbes . Maybe twice, and read some good books, get a great lawyer and don't sign a record deal until you absolutely have to. Gain as big an audience and community as you can, work on your craft and art, get on the road and tour and then find a partner."
While Leto believes record companies are an important part of an artist's journey to gain worldwide acceptance, joining a label isn't something that should be done lightly. "You need a record company and if you don't have one you're going to have to hire a bunch of independent companies to do what you need to do," he explains. "There's no global success that hasn't had a record company of some kind, a distribution deal or a publishing deal. You have to have something in place, and that's not always a bad thing, to have people working really hard for you."
Artifact is now available on iTunes, and the flick will be screened in select theaters around the globe in the coming weeks. Visit AdventuresInWonderland.com to see the full list of dates and cities.
Copyright 2013 ABC News Radio