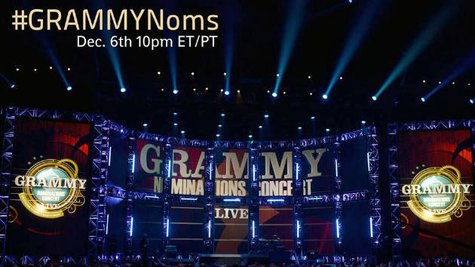 While the lion's share of the Grammy nominations, announced on Friday night, went to rap and pop stars, plenty of legendary rockers received recognition as well, among them David Bowie , Paul McCartney , Mick Jagger & Keith Richards , Neil Young , Black Sabbath and even Led Zeppelin . There were also Grammy nods for Alabama Shakes , Kings of Leon , Imagine Dragons , Jack White , Muse and Dave Grohl .
Bowie's album The Next Day , whose release was one of the big surprises of 2013, received a nod for Best Rock Album, while one of the tracks, "The Stars Are Out Tonight," is nominated for Best Rock Performance. Also in that category are Imagine Dragons' "Radioactive," "My God Is the Sun" by Queens of the Stone Age , "Always Alright" by Alabama Shakes, "I'm Shakin'" by Jack White, and "Kashmir," from the soundtrack of the Led Zeppelin film Celebration Day, which documented the band's 2007 reunion performance in London.
Besides Bowie, the Best Rock Album category also made room for Black Sabbath 's 13 , Kings of Leon 's Mechanical Bull, the Queens of the Stone Age album ...Like Clockwork , Led Zeppelin's Celebration Day soundtrack, and Psychedelic Pill, by Neil Young with Crazy Horse.
The Best Rock Song category saw Paul McCartney receive a nod, along with Dave Grohl, Pat Smear and Krist Novoselic , for "Cut Me Some Slack," the tune they collaborated on for Grohl's Sound City -- Real to Reel project. Mick Jagger and Keith Richards received a nod for writing the Stones' single "Doom and Gloom," while the Black Sabbath track "God Is Dead?" earned Geezer Butler , Tony Iommi and Ozzy Osbourne nods. Muse's "Panic Station" was also nominated in that category.
McCartney's album Live Kisses was also nominated for Best Surround Sound Album, of all things, while the accompanying documentary of the same name was nominated for Best Music Film. Also in that category: Coldplay 's Live 2012 , Green Day 's ¡Cuatro! and The Road to Red Rocks , from Mumford & Sons.
Here's a sampling of the rock nominees:
Best Rock Performance
"Always Alright" — Alabama Shakes
"The Stars (Are Out Tonight)" — David Bowie
"Radioactive" — Imagine Dragons
"Kashmir" (Live) — Led Zeppelin
"My God Is The Sun" — Queens Of The Stone Age
"I'm Shakin'" — Jack White

Best Rock Album
13 — Black Sabbath
The Next Day — David Bowie
Mechanical Bull — Kings Of Leon
Celebration Day — Led Zeppelin
…Like Clockwork — Queens Of The Stone Age
Psychedelic Pill — Neil Young With Crazy Horse
Best Rock Song
"Ain't Messin 'Round," Gary Clark Jr.
"Cut Me Some Slack," Dave Grohl, Paul McCartney, Krist Novoselic & Pat Smear
"Doom And Gloom," Rolling Stones
"God Is Dead?," Black Sabbath
"Panic Station," Muse
Best Alternative Music Album
The Worse Things Get, The Harder I Fight, The Harder I Fight, The More I Love You — Neko Case
Trouble Will Find Me — The National
Hesitation Marks — Nine Inch Nails
Lonerism — Tame Impala
Modern Vampires Of The City — Vampire Weekend
Copyright 2013 ABC News Radio