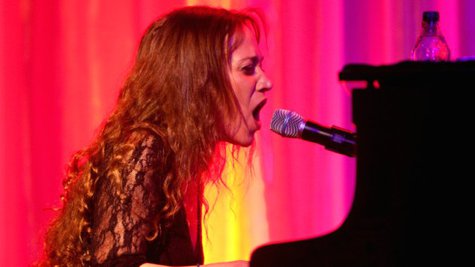 Party-goers who attended a Louis Vuitton party in Tokyo Thursday night were treated to a spectacle of a different kind by Fiona Apple , who was performing at the event.
According to Women's Wear Daily , the singer threw a fit onstage because she was upset with the noise level of the crowd. WWD reports that a few songs into her set, Apple "climbed on top of her grand piano," asked for silence, and then "challenged everyone to be silent for the duration of a tone she created by striking a small metal bell." When the crowd didn't quiet down, Apple let loose a stream of profanity, telling the audience to "shut the f**k up."
The publication adds that Apple behaved oddly in general during her set: she smacked her head with her microphone, performed "a back bend over her piano bench" and ogled her guitarist "as if in a love-struck trance."
At the end of her set, Apple could be heard shouting, "Predictable! Predictable fashion, what the f**k?," before leaving the stage.
Apple has had a few onstage meltdowns in the past, both at award shows and at concerts.
Copyright 2013 ABC News Radio