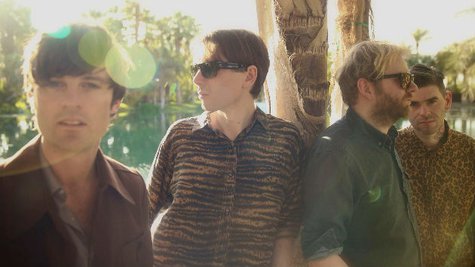 Frontman Alex Kapranos believes that the songs on Franz Ferdinand 's recently-released album, Right Thoughts, Right Words, Right Action , don't all sound like they belong on the same record. The reason, he says, is because the band took a series of extended breaks while putting it together.
"The songs are different from each other and the production varies quite a lot," he tells U.K. magazine Q . "In a way, it sounds like a band's compilation record. Because we were recording for only a few days at a time, we'd do one or two songs, and then go away and work on other things, and only come back when we'd written another two or three."
While the band didn't have a specific theme in mind for Right Thoughts, Right Words, Right Action , they had a clear idea of the kind of songs they wanted to create for it. "There were certain rules we were working to," Kapranos explains. "We wanted bigger lyrical ideas. We wouldn't go anywhere near a recording the song until we had a really strong idea for it."
Franz Ferdinand is currently overseas playing a series of worldwide festival dates. That will lead up to the launch of their North American headline tour, which kicks off October 4 at the House of Blues in Austin, TX.
Copyright 2013 ABC News Radio