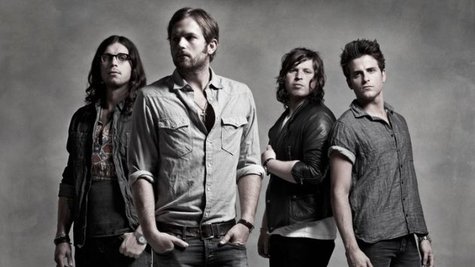 Expectations are high for the new Kings of Leon album. Mechanical Bull , the band's first disc since 2010, is slated for a September 24 release. While some people may have though the very future in the band was in doubt after frontman Caleb Followill 's famous onstage meltdown in 2011 that led to a tour cancellation, drummer Nathan Followill tells Rolling Stone there was never any question among the band members about the future.
"People ask us that and if you ask any one of us, we'd say, 'No way.' That wasn't a thought in any of our minds," he says. "We all knew we needed a break, but we knew it wasn't over."
The new album, he says, feels loud and loose, a byproduct of how it was made. "'Family Tree' is a song that sounds like we picked up our instruments and went with a groove, and that's pretty much exactly how it happened," he says. "'Don't Matter' was one of the last ones we recorded. It literally was written that day in about 15 minutes."
That loose feel may also be a product of the atmosphere in the studio. "This record was so much fun to make. We spent 80 percent of the time playing practical jokes and 20 percent getting work done," he says.
So, what was the craziest practical joke? "We found these little exploding things that you can pretty much put underneath anything," the drummer tells Rolling Stone . "It's the loudest pop in the world… We had no idea at the time, but our engineer had ear problems, and we got him pretty good one day -- a triple load. That did not end well."
Copyright 2013 ABC News Radio