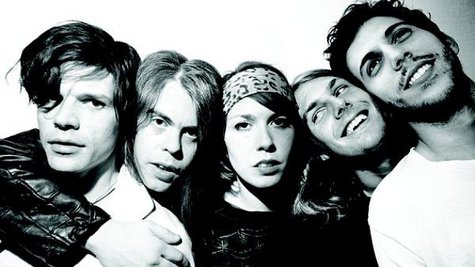 Grouplove fans can expect their upcoming release, Spreading Rumours , to be a bit different from their debut album, Never Trust a Happy Song . Frontman Christian Zucconi says that the new record is filled with high-energy tracks that they're looking forward to playing live.
"Overall we feel like it's a much heavier album than the first one -- just loud and lots of synths and guitars," Zucconi tells Billboard . "We felt like, if you're going to be performing these songs for a long time, you want to pick ones that will inspire you and have energy to uplift when you're playing them live."
Zucconi adds that band came up with tracks quickly, heading into the studio to record the album just seven days after they finished their tour in support of Never Trust a Happy Song . "We had this momentum -- being on the road for so long and developing such a good live show, we wanted to harness that energy while it was still right and got right into the studio and captured it," he explains.
Spreading Rumours will arrive at all the usual outlets on September 17 and will be available in a variety of formats, including standard and deluxe digital versions, as well as a limited-edition flexi-disc book, which features the tracks on individual vinyl "pages."
Copyright 2013 ABC News Radio