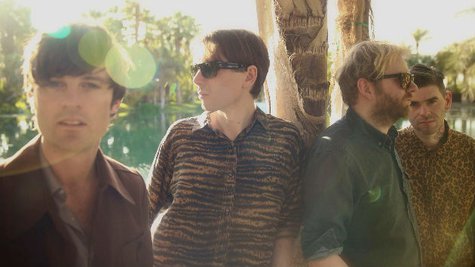 Franz Ferdinand 's new album, Right Thoughts, Right Words, Right Action , hits stores next Tuesday, but that record was almost never made. Frontman Alex Kapranos says he considered breaking up the band following their tour behind 2009's Tonight: Franz Ferdinand .
"I wanted to split the band up," he tells The Observer . "I didn't like the routine and the obligations. And whether those obligations lay with my contemporaries, my peers, my record label, the fans, the audiences -- or maybe myself…I felt…it was time to…stop that."
Guitarist Nick McCarthy adds that the group's constant touring schedule affected him as well. "[Afterwards] I just came down heavily with depression, I think," he reveals. "I just thought, 'Eurrgh, can't play music any more.' Couldn't stand it. We'd sucked ourselves dry."
Kapranos notes making Right Thoughts, Right Words, Right Action helped breathe new life into the band. The singer explains that he enjoyed reconnecting with the group's "odd" and "quirky" sound for the release, a sound he felt was "shaved off" by their success.
"When we came to making the new album, we decided that oddness was just us!," he says. "And we should enjoy that: it should be at the heart of our existence if we want to continue."
Copyright 2013 ABC News Radio