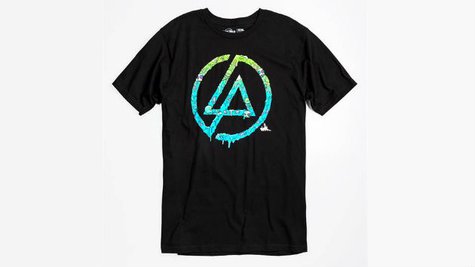 Linkin Park has teamed up with the folks at Hard Rock International to sell a new t-shirt that will help families in need gain access to sustainable energy solutions.
The exclusive line of Linkin Park Signature Series: Edition 31 t-shirts, designed by LP multi-instrumentalist Mike Shinoda , features an updated version of the group's logo accompanied by some animated designs. In addition, the signatures of each band member are printed on the back of the shirt, along with a Hard Rock logo.
A portion of proceeds from t-shirt sales will go to benefit Linkin Park's non-profit organization Music for Relief, and its Power the World campaign.
"There are people in the world who cook dinner over fires and people who have to perform emergency surgery at night via candlelight," says Shinoda in a statement. "The proceeds of this shirt will buy clean-energy cook stoves for families…[and] it will buy 'solar suitcases' to power things like hospital lights and medical devices in remote areas of the world without energy access."
The shirts will run you $26 each and are available now for both men and women. You can buy them at the official Hard Rock website and at Hard Rock outlets worldwide.
Copyright 2013 ABC News Radio