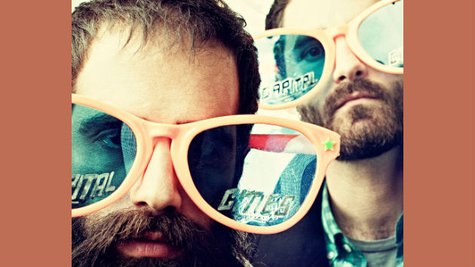 Capital Cities is celebrating their first-ever top-10 hit this week, as "Safe and Sound" jumps from #15 to #9 on the Billboard Hot 100. While the duo's Ryan Merchant says it's odd to hear their song played between the likes of Miley Cyrus and Maroon 5 , he says he and musical partner Sebu Simonian always knew "Safe and Sound" would someday be a hit.
"It's definitely weird to have your song be in a position like that," Ryan says of the song's hit single status. "Just knowing that we have a hit song is kind of an interesting, unique experience." But, Ryan adds, "We always kind of believed this song had a lot of pop potential -- that it was one of those songs that could really cross over. And, now it's just sort of proving that fact. [It was] something that we sort of believed all along."
Ryan explains that the upbeat tune wasn't one of those songs that came quickly, however. He tells ABC News Radio that he and Sebu slaved over "Safe and Sound," trying out at least eight different versions before they came up with a sound that made them happy.
"When we first wrote the song we knew that we had something special, but we tried out multiple productions and just couldn't quite get it right and didn't feel like they were doing the song justice," Ryan explains. He says the "a-ha" moment was when they decided to put a vintage keyboard on the song, and hire a trumpet player to perform the melody. "It just sort of took it to this epic place," he recalls.
As for why the song is a hit, Ryan says its message stands out during a time when everything in pop culture seems focused on apocalyptic, end-of-the-world-type scenarios.
"This song is meant to instill some hope in people," he tells ABC News Radio. "Every generation thinks that the end of the world is right around the corner, but that never seems to happen. So, the song is in some ways reinforcing that idea that we're gonna be fine."
"There's bad things that are always gonna happen but somehow the human race is able to progress, even if it's a slow process," he adds.
The "Safe and Sound" video is up for two technical awards at the MTV VMAs later this month, but right now, the duo has no plans to attend, since they're currently on tour. In fact, this week, they're in Asia. In the past, even before they had a major-label record deal, they successfully toured South America and Europe. So what is it about their music that appeals to people worldwide who can't even understand the lyrics?"
"I don't know," admits Ryan. "I would guess, if they don't understand the lyrics, probably there's something about the beat and the melody that people are able to latch on to."
He explains, "I think we have a knack for writing melodies that are simple but still somewhat sophisticated and interesting and different...that a five-year-old child can sing, and someone from Japan could hum back to you after hearing it one time."
Copyright 2013 ABC News Radio