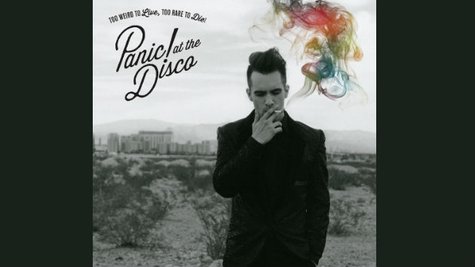 Panic! at the Disco frontman Brendon Urie fights off surgeons who want to slice him up in the new video for "This Is Gospel," a cut from the band's upcoming album, Too Weird to Live, Too Rich to Die .
The three-minute clip opens with Urie on an operating table, where he struggles to break free from a group of surgeons who are intent on cutting him open. Urie eventually gets a gas mask strapped to his mouth, and then finds himself in a dream where he's being placed in a coffin, which is slowly drowning. The end of the clip features Urie running toward a bright light, accompanied by the sound of heartbeat grinding to a halt.
Panic! at the Disco has also revealed the official cover art for the set. It features a black-and-white photo of Urie walking in the desert smoking a cigarette that produces multi-colored smoke.
Too Weird to Live, Too Rich to Die features 10 new tracks and will arrive in stores on October 8. If you pre-order the album now at iTunes , you'll score an immediate download of "Miss Jackson" and "This Is Gospel."
Here's the track list for Too Weird to Live, Too Rich to Die :
"This Is Gospel"
"Miss Jackson" (featuring Lolo)
"Vegas Lights"
"Girl That You Love"
"Nicotine"
"Girls/Girls/Boys"
"Casual Affair"
"Far Too Young to Die"
"Collar Full"
"The End of All Things"
Copyright 2013 ABC News Radio