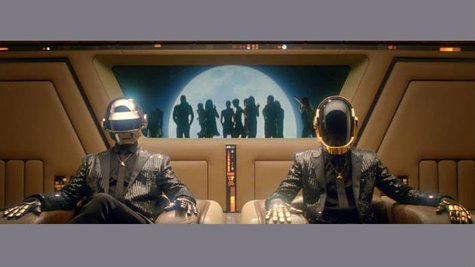 Late-night talk show host Stephen Colbert has scored one of the biggest names in music to be a part of his annual "Colbchella" concert series. Daft Punk is scheduled to appear on Tuesday night's episode of The Colbert Report , a spokesperson for Comedy Central has confirmed to ABC News Radio.
Colbert teased the electronic duo's upcoming appearance by stopping by NBC's Late Night with Jimmy Fallon earlier this week. While Fallon was chatting with Dinosaur Jr. 's J Mascis , Colbert came out from behind a curtain and danced with Fallon to Daft Punk's hit song, "Get Lucky."
While Colbert's Colbchella shows usual feature interviews and performances from the bands who appear as part of the event, it is unknown if Daft Punk will perform on the show. During last year's event, titled StePhest Colbchella '012: RocktAugustFest , Colbert hosted a concert aboard the Intrepid Sea, Air and Space Museum in New York City that included performances by The Flaming Lips , fun. , and Grizzly Bear , among others.
Copyright 2013 ABC News Radio