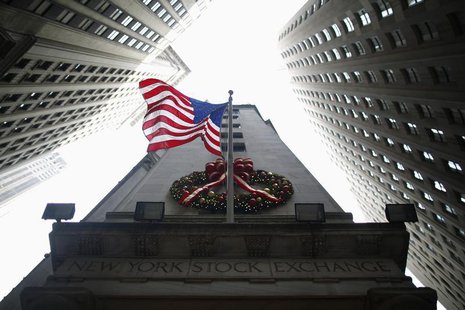 By Herbert Lash
NEW YORK (Reuters) - The New York Stock Exchange and the Nasdaq stock market will be able to freely increase revenue from the sale of market data, under a U.S. appeals court ruling on Tuesday that dismissed a complaint brought by a group of Internet companies and a trade group for brokers.
The court said the Dodd-Frank law stripped it of jurisdiction in the case, causing it to rule against the Internet companies, grouped together as the NetCoalition, and the Securities Industry and Financial Markets Association (Sifma), a lobby for the banking, brokerage and asset management industry.
The U.S. Court of Appeals for the District of Columbia Circuit said Congress, in enacting Dodd-Frank, removed a requirement that the Securities and Exchange Commission review certain filings by the exchanges for new market data fees.
In a ruling in 2010 involving the same parties, the court said there must be evidence that competition is constraining the fees the exchanges charge for the data feeds that stream stock quotations, share prices and other market data.
The appeals court sent the case back to the SEC, citing a lack of evidence that competition existed among the exchanges for the sale of their proprietary data.
Sifma and a predecessor organization had insisted for years that the cost of producing market data is negligible and the fees the exchanges charge are far in excess of cost.
The Securities Traders Association, which was not part of the case, also had strongly complained data fees are too high.
Sifma and the NetCoalition, which included Google Inc and Yahoo Inc, had challenged amendments to the Securities Exchange Act that were part of Dodd-Frank. The changes allowed the NYSE and Nasdaq to file for new fees that were "immediately effective" and side step regulatory review.
Sifma and NetCoalition had complained that the SEC had abdicated its duty to ensure market data fees were "fair and reasonable."
The court said that because the SEC is no longer required to review an exchange's filing for new fees, its prior ruling is inoperative and Dodd-Frank "ousts us of jurisdiction."
Nasdaq's U.S. sales of proprietary data rose to $150 million last year, a two-thirds increase since 2007. How much of that was driven by higher prices or rising sales is unclear.
The NYSE on April 1 raised fees for several of its data products by 50 percent or more. Fees for NYSE OpenBook, a "depth-of-book" product, rose to $21,000 a month from $14,000, according to an NYSE filing with the SEC. In another example, fees rose about 60 percent for vendors and for a broker-dealer almost 190 percent.
(Reporting by Herbert Lash; Editing by Steve Orlofsky)