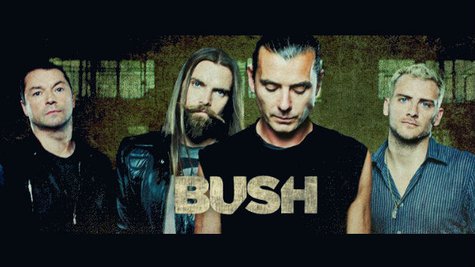 Having a hard time finding great songs to listen to while working out? We've got your problem solved. According to Gold's Gym, Bush 's " Machinehead " was just voted the Ultimate Workout Song for 2013in the fitness chain's March Music Madness Battle of the Bands competition.
Gold's Gym surveyed the public, celebrities and gym members and asked them to nominate their favorite workout songs, and then chose 64 to go head-to-head in a bracket-style competition. Over 40,000 votes were logged, and "Machinehead," which was nominated by professional BMX biker Mike Spinner , was declared the victor. It beat out the other songs in the "Final Four," which included "Till I Collapse" by Eminem featuring Nate Dogg , "Party Rock Anthem" by LMFAO , and GrandMastaz 's version of the Sir Mix-a-Lot 's "Baby Got Back."
Because Spinner suggested the Bush track, Gold's Gym is making a $5,000 donation on his behalf to the Coastal Boxer Rescue of Florida, a not-for-profit organization dedicated to rescuing abused, abandoned and neglected boxer dogs.
Copyright 2013 ABC News Radio