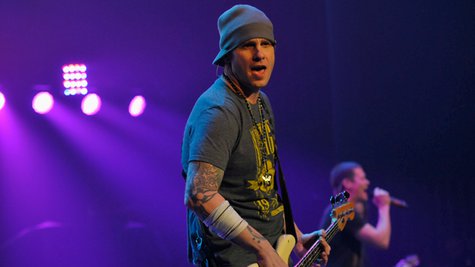 The bassist for 3 Doors Down has been arrested on a charge of vehicular homicide following a car accident in Tennessee that claimed the life of a 47-year-old man.
According to The Tennessean , police say Robert Todd Harrell clipped a pickup truck in the Nashville area, on Interstate 40, while driving drunk on Friday night. The truck, driven by Paul Howard Shoulders Jr. , struck a guardrail, went down an embankment, and flipped over. Shoulders, who was not wearing a seat belt at the time of the accident, was ejected from his car. He was pronounced dead at a Nashville hospital.
After his car struck a retaining wall, Harrell failed a sobriety test, according to police. Police also say he admitted he had consumed hard cider and had taken the prescription painkiller Lortab and the anti-anxiety drug Xanax.
While he was booked in jail, police say, Harrell was found to be in possession of eight Xanax pills and a total of 28 pills of the prescription painkillers Oxycodone and Oxymorphone.
As of Saturday evening, Harrell was in jail on charges of vehicular homicide while intoxicated, drug possession, violating implied consent laws and bringing contraband into a jail. His bond was set at 100 thousand dollars.
A brief statement on the 3 Doors Down website reads , "We are deeply saddened by the passing of Paul Howard Shoulders, Jr. Our hearts and prayers go out to his family and friends at this difficult time."
Harrell, who's 41, is a founding member of 3 Doors Down, which is currently based in Nashville. The group's next scheduled concert date is this Friday, in Louisiana.
Copyright 2013 ABC News Radio