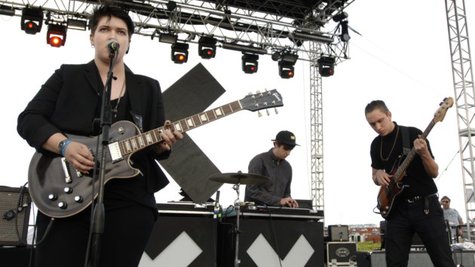 Even though it's only been about seven months since The xx released their latest album, Coexist , frontman Oliver Sim says that the group's already begun working on "skeletons of songs" and "bare rough demos" for their next release.
"We started writing and we're currently trying to write on the road, which is something we've never been able to do," Sim tells Billboard . "Normally, I think I need the chance to be alone and to be quiet and these are two things that don't really exist on tour but we've been doing it." Sim adds that he hopes to get into the studio to record the new album after The xx finish their tour to promote Coexist .
While you'll have to wait a while to get your hands on a new album, the group has recorded a brand-new song, "Together," for The Great Gatsby soundtrack. The forthcoming collection arrives at digital retailers on May 7, while a deluxe version of the release featuring three additional cuts will be available the same day exclusively at Target stores and at Target.com.
The Great Gatsby , a big-screen adaptation of F. Scott Fitzgerald 's classic novel of the same name, will arrive in theaters on May 10. It stars Leonardo DiCaprio , Tobey Maguire and Carey Mulligan .
Copyright 2013 ABC News Radio