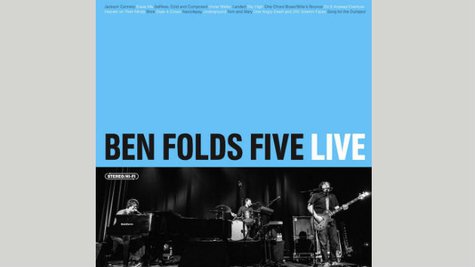 Recently-reunited indie rockers Ben Folds Five have announced they'll be releasing their first-ever live album on June 4.
Titled Ben Folds Five Live , the upcoming set includes 15 tracks that were recorded during the group's recent world tour. The album features a number of fan-favorites including "Brick," "Narcolepsy" and "Song for the Dumped," as well as several tracks from their first studio album together in thirteen years, 2012's The Sound of the Life of the Mind .
Shortly after the album arrives in stores, the band will be hitting the road with Barenaked Ladies and Guster for their Last Summer on Earth Tour. That North American trek kicks off on June 17 at the Verizon Theatre in Dallas, Texas. Visit LastSummerOnEarth.com to view the full itinerary.
Here's the track list for Ben Folds Five Live :
"Jackson Cannery" (The Warfield, San Francisco, CA, 1/31/13)
"Erase Me" (The Warfield, San Francisco, CA, 1/31/13)
"Selfless, Cold and Composed" (House of Blues, Boston, MA, 10/13/12)
"Uncle Walter" (Kool Haus, Toronto, Ontario, Canada, 10/5/12)
"Landed" (The Warfield, San Francisco, CA, 1/31/13)
"Sky High" (The Barton Theatre, Adelaide, AU, 11/16/12)
"One Chord Blues/Billie's Bounce" (The Wiltern, Los Angeles, CA 1/26/13)
"Do It Anyway/Overture-Heaven on Their Minds" (O2 Academy, Brixton, UK, 12/4/12)
"Brick" (The Warfield, San Francisco, CA, 1/31/13)
"Draw a Crowd" (Capitol, Port Chester, NY, 10/9/12)
"Narcolepsy" (Hitomi Kinen Hall, Tokyo, JP, 2/16/13)
"Underground" (Mielparque Hall, Osaka, JP, 2/22/13)
"Tom and Mary" (O2 Academy, Brixton, UK, 12/4/12)
"One Angry Dwarf and 200 Solemn Faces" (The Warfield, San Francisco, CA, 1/31/13)
"Song for the Dumped" (The Barton Theatre, Adelaide, AU, 11/16/12)
Copyright 2013 ABC News Radio