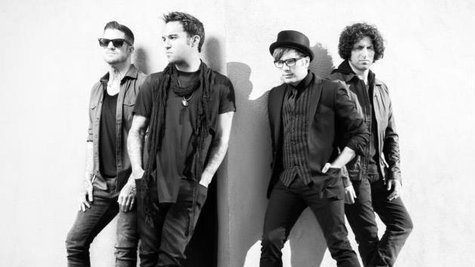 It appears that Fall Out Boy is a fan of Spinal Tap . The band staged a tribute to the parody heavy metal band during their performance of "My Songs Know What You Did in the Dark (Light Em Up)" on Conan Wednesday night.
Mimicking a scene from the 1984 mockumenatry, This Is Spinal Tap , FOB bassist Pete Wentz was trapped in a pod that refused to open until more than halfway through their performance. Luckily, Spinal Tap's bassist Derek Smalls , played by Harry Shearer , was there to fill in for Wentz while he tried to fight his way out of the pod. As an added nod to the film, a miniature model of Stonehenge appeared on the stage towards the end of their set, along with a group of hooded mini-Druid worshipers who danced around it.
Fall Out Boy is set to hit the road next month to support their recently-released album, Save Rock and Roll . The tour starts May 14 in Milwaukee and winds its way through the U.S. and Europe this summer before returning to the U.S. for a leg of arena dates in September. Check out FallOutBoy.com for the full itinerary.
Copyright 2013 ABC News Radio