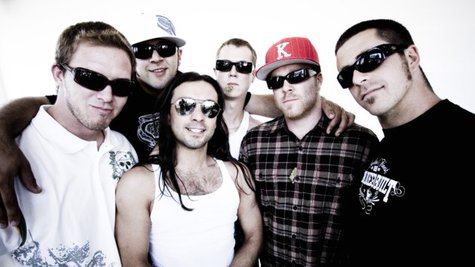 Slightly Stoopid has just released their new live CD/DVD set, Slightly Stoopid & Friends: Live at Roberto's TRI Studios . The set documents a September 13, 2011 concert the group performed at Grateful Dead singer/guitarist Bob Weir 's TRI Studios in San Rafael, California. Co-frontman Miles Doughty says that it was a thrill to perform their set with a number of special guests, including Weir himself.
"We didn't really know what to think about it going up there and then, honestly, once we got up and set up…the vibes were really good and Bob was super cool. All those other guys, Ian [ Neville ] and Ivan Neville , Don Carlos , Karl [ Denson ], I mean those guys are like legendary musicians, you know what I mean? It was one of those things where all the stars were aligned and it just kinda worked out."
Co-frontman Kyle McDonald adds that the lengthy setlist, which features 31 acoustic and electric performances, includes tributes to artists they admire in addition to the ones that they performed with. "We had special guests too so we did some of songs of theirs and then we did some songs of bands we like, like The Meters , and then...we did our full repertoire, just having fun. We'll go back and probably do another set of whole new songs hopefully soon with Bob."
Slightly Stoopid is currently trekking across North America promoting their latest album, Top of the World . Visit SlightlyStoopid.com to view the full itinerary.
Copyright 2013 ABC News Radio