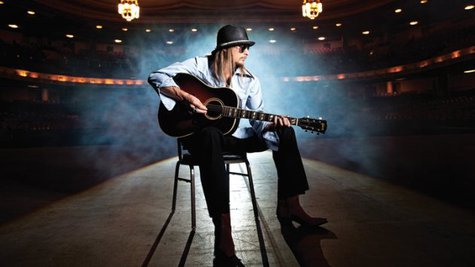 Kid Rock says that the main reason he decided to launch his upcoming $20 Best Night Ever Tour -- where all the seats in the venues are just $20 -- was because he was fed up with the high prices of concert tickets.
"We're all so overpaid," he tells Rolling Stone . "People stopped going to concerts because they can't afford them. The Rolling Stones are charging $650 per ticket! I love the Stones, but I won't be attending."
The singer adds that fans who wind up getting tickets far from the action shouldn't worry: he plans on saving the first two rows in the house just for you. "I'm going to send my roadies to find people in the back of the place to sit there," he reveals. "We don't care who you are, you can't get those seats unless we select you."
Rock's $20 Best Night Ever Tour begins on June 28 at Jiffy Lube Live in Bristow, Virginia. Kool & The Gang , ZZ Top and Uncle Kracker will support Rock and his Twisted Brown Trucker Band on select dates. Visit KidRock.co m to view the full itinerary.
Copyright 2013 ABC News Radio