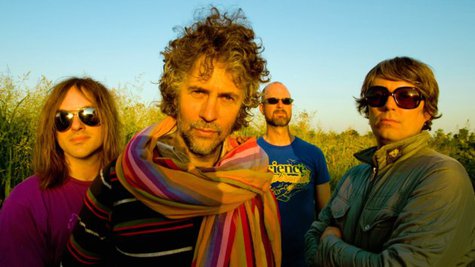 The Flaming Lips have released a new video for "Ashes in the Air," a track from the band's 2012 collaboration album The Flaming Lips and Heady Fwends , which features Bon Iver .
The trippy four-minute video , which is definitely not safe for viewing at work, focuses on a one-eyed astronaut who carries a baby -- which features the face of Bon Iver frontman Justin Vernon -- through an apocalyptic world. Along their travels together, the two come across various groups of naked people who are mourning the loss of friends whose brains have been violently ripped out of their heads. The clip ends with the astronaut returning to his spaceship and feeding the Vernon-faced baby into a meat grinder.
In other Lips news, the band will release their 13th studio album, The Terror , on April 16. Fans who pre-order The Terror now at digital retailers will score an immediate download of the non-album track, "Sun Blows Up Today," which was featured in a Hyundai commercial that aired during Super Bowl XLVII.
Copyright 2013 ABC News Radio