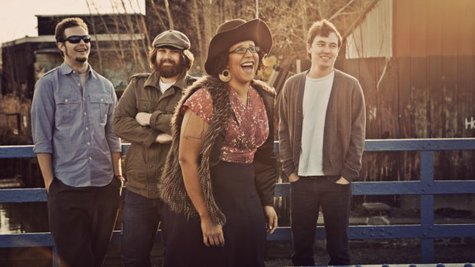 Alabama Shakes is among the artists taking part in the latest installment of the PBS In Performance at the White House concert series, which features the president and first lady celebrating legendary musicians and musical styles. This year's theme is "Memphis Soul," so the down-home, dirty roots-rockers are a perfect fit for the event.
Also joining in the fun will be Ben Harper , Justin Timberlake , rapper Queen Latifah , '80s pop icon Cyndi Lauper and legendary electric blues harmonica player Charlie Musselwhite . You can check out the event April 9, streaming live at WhiteHouse.gov/live , starting at 6:55 p.m. ET.
If you don't want to watch it online, In Performance at the White House: Memphis Soul will air on PBS Tuesday, April 16 at 8 p.m. ET -- check your local listings.
This marks the tenth In Performance at the White House program hosted by President and Mrs. Obama. Previous events have celebrated Paul McCartney , Stevie Wonder , Motown, the blues, Broadway, country music, and Black History Month.
Copyright 2013 ABC News Radio